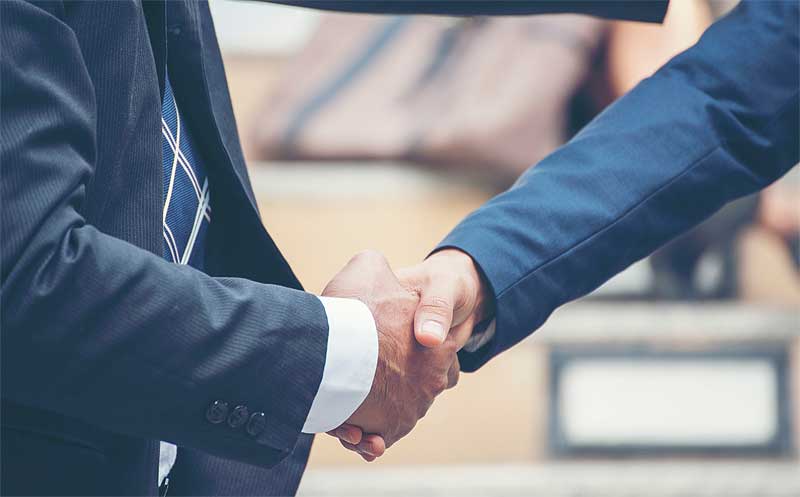 At N2 Plus we are forging strong connections between dealerships and customers. We are aware that the automotive industry is constantly changing, and it takes more than just basic transactions to keep up. Our focus is on cultivating long-lasting relationships between franchised car dealerships and their customers.
Our roots are in developing programs that improve customer retention and increase profits, but we've also expanded our efforts to include mobile apps that facilitate communication and create seamless interactions.
Why Choose N2 Plus?
Advanced Mobile Apps:  Our state-of-the-art mobile applications amplify dealership-customer interactions, ensuring timely and effective communication, from service reminders to special offers.
Reviving Lost Connections:  Recognizing the value of every customer, we employ strategic methods to re-engage those who've drifted away, turning lost opportunities into potential profit avenues.
Service Drive Selling Systems:  We believe the service lane is not just a place for repairs but a vibrant sales floor. Our unique selling systems transform your service drive into a dynamic hub for upselling and cross-selling, significantly boosting profits.
Deep Industry Insight:  Our understanding of franchised car dealerships, backed by years of experience, allows us to tailor solutions that cater to specific challenges, maximizing customer satisfaction and dealership profitability.
Customer-Centric Approach:  Every program we develop places the customer at its core. By ensuring their continued satisfaction, we pave the way for dealerships to enjoy repeated business and stellar referrals.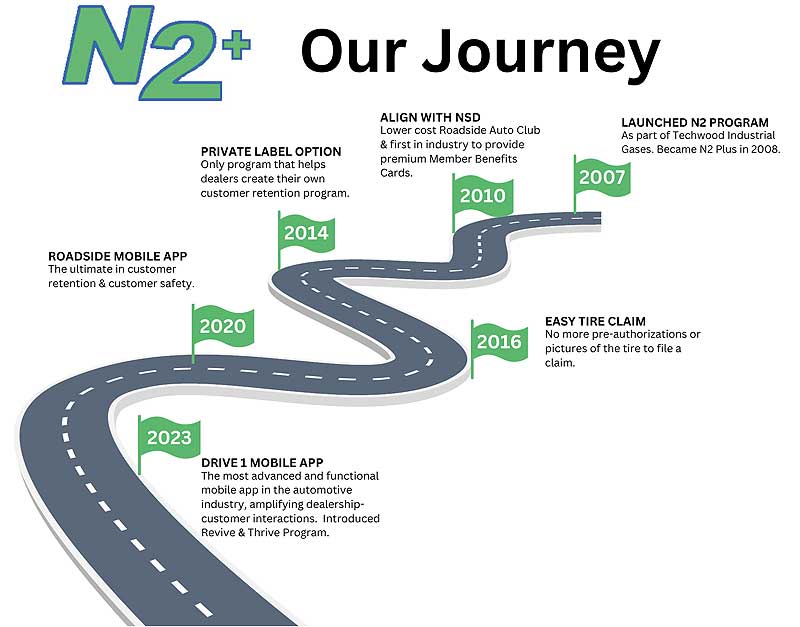 About Our Roadside Provider – Nation Safe Drivers

Providing Roadside Assistance since 1962
Rated #1 Motor Club three years in a row
Covering more than 16 MILLION motorists
24/7 coverage, 365 days a year
Number of Contractors: 45,000+
Average Response Time: 36 minutes
2007 – Launched N2 program as a distributor, selling nitrogen tire inflation in dealership service departments
2008 – Officially became N2 Plus, LLC. Expanded into non-nitrogen operations as well
2010 – Aligned with Nation Safe Drivers, offering premium Member Benefits Cards with our N2 services, expanding tire coverage options
2014 – Introduced Private label option for Nitrogen Tire Inflation Program
2015 – Introduced Direct Tire claim payment to dealers making it easier for customers
2016 – Made Roadside Benefits available to non-nitrogen customers
2018 – Introduced Easy Tire Claims process removing the need for pre-authorization and sending pictures
2020 – Introduced Mobile App making it easier and safer for customers when they need Roadside assistance
2023 – Launched Drive 1 Mobile App, facilitating dealership-customer interactions, ensuring timely and effective communication.  Launched Revive and Thrive Program making it easier to re-engage with lost opportunities turning them into potential profit avenues
The N2 Plus team is in the office M-F 9am-5pm and happy to answer any questions you may have!  Just reach out, we'd love to help you however we can!